Team Building Art Events

Team Building Using Art
Our Art Team Building Events are designed to enhance creative thinking, team work and are a fun hands-on experience for everyone under the guidance of our friendly facilitating artists.
Suitable for any type of event, from fun team building activities to celebrating end-of-year, Christmas parties, a break out activity in a conference or off site, launching a new product or organising team reward.
You will get a unique artwork that your group has had an unforgettable experience creating at your event. We can also combine this with a presentation to a charity or not-for-profit organisation, an exhibition in your office, we can print the design onto merchandise (mugs, mouse-mats etc..). Again these finishing steps to your program are all customised for you.
Range of Art Activities
We have a range of different art activities that we can include in a program that we customise for your needs.
Warm up and energising activities
Fun painting games to relax and start the creative juices flowing!
Team artworks, both freestyle and planned collaborative designs
Individual artworks
Artworks to donate to charities or fundraising
Instructional lessons
Exhibition of artworks created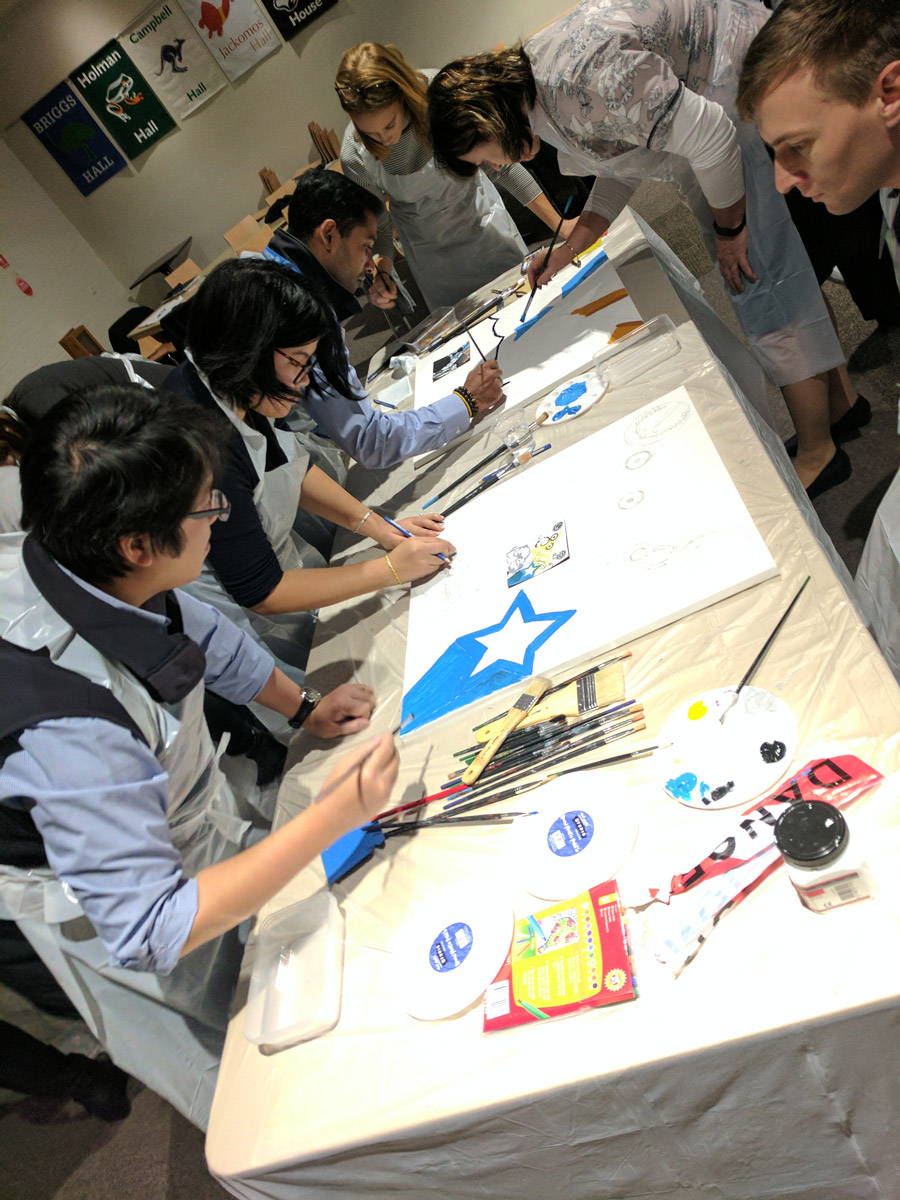 It is vital to the success of the event that we meet your businesses individual needs and understand the purpose of your event.
We will design a program that will suit your event. Whether it's breaking the ice with a new team, invigorating an existing group, improving communication, decorating a new office or just for pure fun we will tailor the program to suit.
We supply everthing required for your group to participate in this exercise
Protective gear such as smocks, drop sheets etc.
All art materials, such as paints, pastels, brushes, canvases etc..
And we take care of all of the setup and packup too!
We usually run art events at your location, wether this be in your office or another venue that you have hired.
We provide protection of the space using drop sheets, and usually venues are fine with this approach. However we are happy to talk to you or someone from your venue about any further protection they would need.
We have artists located in Melbourne and Sydney and can travel to any location to host your event.
As all of our art events are tailored, they need different time, materials & number of facilitators for different sized groups.
So we do not have a standard "price list".
To give you an indication of how affordable an art team building activity can be with us, some activities can be as affordable as $30 per person.
Just contact us below for a quote or more information.
5 Reasons why you should use art for team building
Get a quote or more information
Thanks!
This field is required
This field is required
This field is required
This field is required
This field is required
This field is required